With more than 600 tiny kitchens and counting, Portland's food-cart scene is legendary. The flavorful proliferation has drawn raves from Bon Appétit magazine and CNN (which declared Portland home to the world's best street food).
Unlike other cities' mobile food trucks, most Portland carts stay put in groups dubbed "pods," making it a snap to sample several at a time. You'll also find smaller groups and individual carts scattered around the city; Pioneer Courthouse Square features several carts. Here are some big pods to check out.
Alder
On your way to or from Powell's Books, grab lunch at downtown's Alder pod, one of the city's largest.The Frying Scotsman serves made-to-order traditional British fish and chips, while The Whole Bowlserves veggie bowls topped with an addictive garlic sauce. Overwhelmed by the options? Two popular food carts draw crowds with just one menu item each: Nong's Khao Man Gai's garlic- and ginger-infused chicken and rice paired with dipping sauce has earned her Food Network fame and the jian bing (Chinese savory crepes) at Bing Mi! has quickly become a breakfast and lunch staple for Portlanders.
Fifth Avenue
Set on the MAX line, the Fifth Avenue pod sates downtowners' daytime appetites with offerings like Korean tacos or Asian-fusion rice bowls at Korean Twist and "The Original Schnitzelwich" at Tábor Czech Food. You'll also find an assortment of Indian and Thai carts here.
Third Avenue
The Third Avenue pod includes the popular DC Vegetarian, known for its vegan and vegetarian burgers and sandwiches, and Built to Grill, where the Italian offerings range from penne alla vodka to meatball panini. Once you've got your meal, stroll to Waterfront Park and pull up a bench (or spot of grass) — instant picnic!
Portland State University
Located in the south end of downtown, the PSU pod is handy to the university campus and the shady South Park Blocks. Portland Soup Company offers elevated lunch items like apple-wood-smoked trout chowder and handmade fresh mozzarella sandwiches. It's also home to the second location of the beloved Nong's Khao Man Gai — this one serving pork and vegetarian dishes, in addition to the famouskhao man gai chicken.
Cartopia
A favorite of late-nighters, Cartopia hosts Potato Champion, which dishes up crispy, twice-fried Belgian-style fries and gravy-doused poutine (pretty much perfect post-drinking food). Pyro Pizzadelivers beautifully singed pizzas from a wood-fired oven. Night owls flock to Perierra Crêperie for Nutella-banana or avocado-cream-cheese-and-turkey crêpes, while PBJ's Grilled, which offers surprising — and surprisingly delicious — sandwiches like the Smoked Goat: almond butter, apple wood bacon, goat cheese and apricot jam on olive bread.
Across the street from Cartopia is Lardo, one of the city's many cart-turned-brick-and-mortar success stories. Stop in a for a decadent sandwich (mortadella and mozzarella, cold fried chicken) and try to save room for dessert from the Hungry Heart Cupcakes cart on-site.
Tidbit Food Farm and Garden
Located on foodie-favorite Southeast Division Street, it's no surprise that this newer pod (opened summer 2014) is home to delicious new carts and some long-time city favorites, including Love Belizean and Namu. What might be more surprising, though, is Tidbit Food Farm and Garden's on-site garden and produce stand, retail boutiques like Lodekka (formerly in North Portland) and a beer garden, not to mention a fire pit and frequent live music.
Mississippi Marketplace
Set on hip, walkable North Mississippi Avenue, the choices at Mississippi Marketplace include breakfast standout Hash It Out, which serves meat- and egg-heavy hash using organic and locally sourced ingredients. For lunch, sample vegan-friendly rice bowls packed with fresh ingredients at Native Bowl and animal product-free barbecue at Homegrown Smoker Vegan BBQ. Adding to the feast, Koi Fusion's truck dishes Korean-style tacos every day but Monday.
The pod is anchored by brick-and-mortar German pub Prost, where you are welcome to eat your cart meal if you buy a drink. (Lagers go great with bulgogi burritos!)
Cartlandia
The Cartlandia "super pod" in Southeast Portland is home to The Blue Room, a full-service bar with 18 beers and ciders on tap, and a family- and dog-friendly outdoor beer garden. More than 30 carts representing 15 different countries include a Voodoo Doughnut mobile van and three carts serving lobster.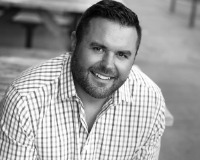 Josh is a proud graduate of the University of Oregon where he earned his BS degree. Upon graduation he followed his entrepreneur spirit and opened his first business. Josh started Burgess Services, wh....